McHenry Roofing Explains What Homeowners Need to Know About Residential Roof Replacements
McHenry Roofing, a roofing contractor based in Baltimore, MD, has recently explained what homeowners need to know about residential roof replacement in various platforms, including the Quora. The article points out that there are a number of factors to take into account to ensure the task will be done correctly. First and foremost among these factors is the reputation of the roofing contractor, including experience in the replacement of residential roofs. This will give the homeowner peace of mind in the knowledge that the new roof is compliant with the building code and all relevant building regulations.
According to the article, "It's also essential that you inspect the condition of your existing roof before taking steps toward replacing it. If there is any visible damage or other signs of wear and tear, then this should be remedied first as part of the pre-project inspection process."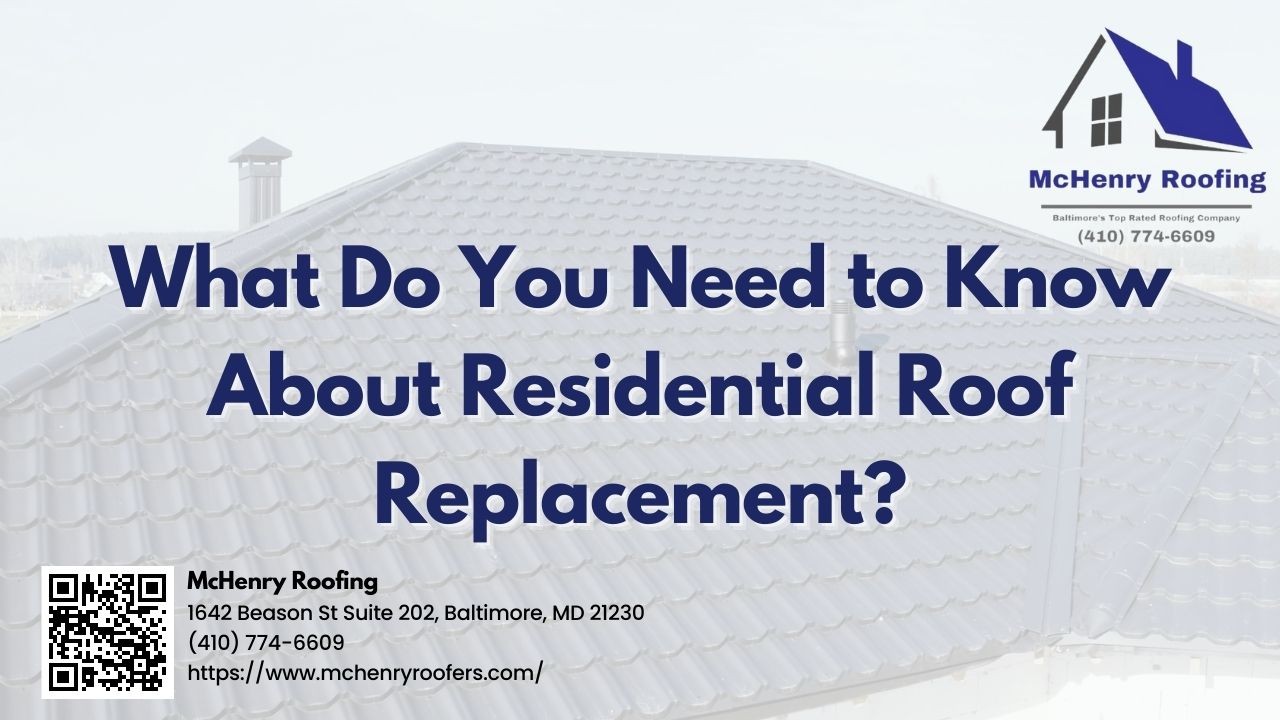 It is also important to ensure the roofing materials, such as asphalt shingles, are of high quality by ensuring that they have been tested for strength and durability against extreme weather conditions. Ensuring that the roofing contractor is reliable also guarantees that the roof will be installed properly and safely. In addition, a reliable roofing contractor can recommend and provide the appropriate maintenance for the roof to make sure that the risks for leaks and water damage are minimized.
McHenry Roofing can provide various kinds of roofs, including roof torch down replacement, to provide the appropriate and desired roofing for the client. In torch down roofing, sheets of modified bitumen are used as roofing material and the roofing specialist utilizes a hand-held propane torch to heat the material until it adheres to the surface. When the layers attain the proper temperature, the seams are melted together to provide a waterproof seal.
The membrane layers of the torch down roof are made from bitumen, which is an asphalt compound that is modified using plastic or rubber. The key benefit of this kind of roofing is that the material will contract or expand depending on the ambient temperature without cracking or melting. It can tolerate the cold or heat during the various seasons. Torch down roofing is a great choice for places where there is frequent snow, which are challenge for flat roofs because the snow stays on the roof and when it melts, the water may go through the roof if there are gaps, which can be avoided with the waterproof seal of torch down roofing.
A possible problem with torch down roofing is that the use of a gas torch with an open flame carries with it the risk of fire. This is why it is important to get the services of experienced roofing experts such as those provided by McHenry Roofing. Another potential disadvantage is that the seams may fail, resulting into a roof leak. Fortunately, it is easy to repair such a problem. Lastly, water may get trapped between two layers of roofing during the installation or repair, which is why it is important to ensure that it is installed during dry conditions. Torch down roofing is usually best for slightly pitched roofs with a pitch of 1/4:12 to 1:12. It is not often recommended for completely flat roofs.
McHenry Roofing has been providing the roofing needs of various residential and commercial buildings for more than 27 years. The roofing services they can provide include: flat roofing; metal roofing; pitched roofing; gutter guards; gutters and downspouts; commercial roofing; skylights and sun tunnels; home insurance coverage; soffit and fascia repair; and other related services. Their service area includes various locations in Baltimore, including: Otterbein, South Baltimore, Charles Village, Pigtown, Brewers Hill, Riverside, Canton, Locust Point, Fells Point, Highlandtown, Federal Hill, Upper Fells Point, Hampden, and Hollins Market.
Those who require the installation of a new residential roof in Baltimore and neighboring areas can visit the McHenry Roofing website or contact them through the telephone or by email. They are open from 8:00 am to 6:00 pm, from Monday to Friday.
###
For more information about McHenry Roofing, contact the company here:

McHenry Roofing
Joseph Conley
(410) 774-6609
info@mchenryroofers.com
1642 Beason St Suite 202, Baltimore, MD 21230