Quick and Careful Moving Explains the Preparations Needed Before Calling Business Movers in Farmington Hills MI
October 31, 2022 at 15:58
Farmington Hills, Michigan -
Quick and Careful Moving, a company providing residential and business movers in Farmington Hills, MI, has recently released a blog post that discusses the essential preparations needed before a company will call the business movers. Certain preparations are needed to ensure an efficient and hassle-free office relocation. Adam Crans, owner of Quick and Careful Moving, says, "Relocating to upgraded commercial premises indicates that the business is thriving, and you have identified a space that corresponds to business needs. First of all, visit the building in the new office location to assess its suitability for the items that you want to set in it. Examine the flooring and walls to establish if you need painters, carpenters, and other experts to work before you move the items. We advise you to partition the area to set the space for employees and office furniture before you call our team to move the items from your current location."
After preparing the new office for the move, the next thing to do is to identify the kind of moving company that would be required. It would be a good idea to interview a number of moving firms to find the most appropriate for the company's needs. For instance, the moving firm must have staff who are capable of handling the electronics equipment, such as computers and copiers, and also fragile glassware, if these are vital items in the office. Quick and Careful Moving has various transport vehicles and specialized cars that are suitable for safely transporting various kinds of items.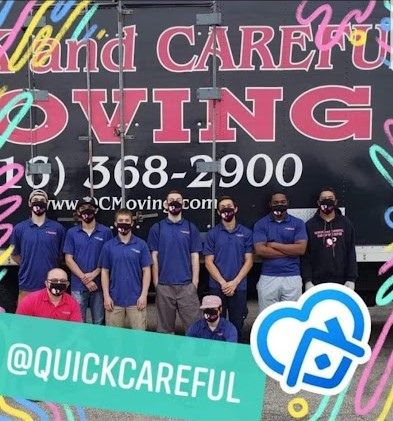 There is also the need to prepare for the proper coordination of the move to make sure that the commercial movers will be taking care of each item. The individual to be assigned as coordinator will ensure that a moving schedule will be followed and will also serve as the contact person for the moving company. For bigger businesses, it may be appropriate to assign a move coordinator for each department to make the moving process easier. It may also be a good idea to conduct several meetings to prepare for the move.
And finally, there is also the need to make the necessary changes to those things used for business communications, such as corporate forms, letterheads, and promotional printouts to ensure that the new address is indicated. It is also important to make sure that the new contact information is indicated on the company website to alert present and future clients. And suppliers and technicians may also need to be informed about the new office address to ensure the continued smooth operation of the business.
Started in 2013 in Grand Rapids, MI, Quick and Careful Moving offers professional moving services in various places in Michigan aside from Grand Rapids, such as Farmington Hills, Kalamazoo, and Bloomfield Hills. They have a large network of moving staffers throughout the US and can help with moves to and from different locations, including: Atlanta, GA; Baltimore, MD; Albuquerque, NM; Charlotte, NC; Chicago, IL; Boston, MA; Dallas, TX; Denver, CO; Columbus, OH; Indianapolis, IN; Jacksonville, FL; Houston, TX; Los Angeles, CA; Memphis, TN; Las Vegas, NV; New York City, NY; Oklahoma City, OK; Phoenix, AZ; San Antonio, TX; Milwaukee, WI; Philadelphia, PA; San Jose, CA; Seattle, WA; and San Diego, CA. They provide local and long distance relocations at reasonable rates that have earned them various recognitions, including the Super Service Award on Angie's List twice within a period of five years and an A+ rating with the Better Business Bureau (BBB). These services are performed by a fully licensed and insured team of professional movers with a combined experience of 41+ years. They are ready to help make the move as smooth and stress-free as possible.
Businesses that require a professional office moving service can go to the Quick and Careful Moving website or contact them by telephone or through email. Their office is open from 8:00 am to 4:00 pm, from Monday to Friday. On Saturdays, they are only open for moving services, from 8:00 am to 11:00 pm.
###
For more information about Quick and Careful Moving, contact the company here:

Quick and Careful Moving
Adam Crans
248-216-1881
quickcarefulmoving@gmail.com
37624 Hills Tech Dr, Farmington Hills, MI 48331